History
In 1939 the Adorers of the Blood of Christ opened the First Catholic home for the elderly in the Diocese of Lincoln.
The home of Joseph Schramek was remodeled to accommodate 14 guests.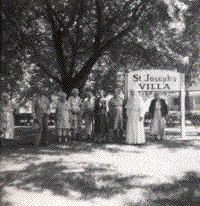 The first guests arrived in October.
Soon there were more requests for admissions than could be accepted.
For 20 years the Sisters maintained the nursing home.
In 1960 the Sisters were faced with a dilemma.
The Sisters felt that the building no longer was adequately equipped to provide a high standard of care.
The home needed extensive renovations or would have to be closed.
In December of 1964, the Sisters saw 22 residents find other housing for the elderly .

In 1964, a Villa Development committee announced a
fundraising campaign for expansion and reopening of the Villa.
A 44-bed facility reopened in the Spring of 1967.

In 1975, a 21-bed addition and a finished basement with space for an employee's lounge,
housekeeping, a classroom, quilting room for volunteers,
maintenance workshop and storage for guest's personal items was completed.

Another addition to the Villa occurred in 1985,
with the construction of the Chapel.
The Chapel has two-person pews for ease of the Villa
residents and is used for Protestant services and Catholic Mass.